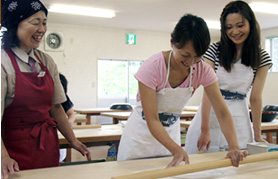 Lesson Fee
\1,080 per person (Include Soba making lesson, and carry out your Soba.)
Lesson Time Required
Approximately 40 to 60 minutes. (Take extra time of your schedule.)
Group Nembers
2 to 80 persons are available to take a lesson. (More than 80, please let us know.)
Options
Plus \330 you can taste what you made at the lesson. Takes 30 minutes extra. You can boil your soba and taste with sauce in the lesson room. Cannot bring your soba to the restaurant, sorry.
By previous booking, you can order "Oyaki" which is Nagano's local soul food made with warm cooked vegetables covered with wheat cake only \160 a piece.
More details
Just bring yourself
Tools, ingredients, apron and towel which covers your hairs are prepared for you. You don't need to prepare anything but yourself.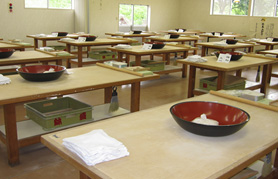 Group Lesson Style
From 2 to 80 members will be divided to small groups with about 4 persons. In the group you will try Soba making by turns. All the tools are not prepared individually.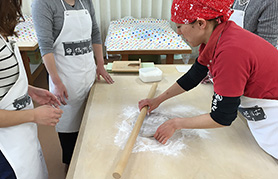 Notes
If you have an allergy to Soba (buckwheat), please avoid to take a lesson.
All the lessons need previous booking. Please inform date, time, number of people and what you want to do at the lesson by e-mail, phone or fax.
To knead Soba dough needs a lots of power. Parental guidance may be needed to small children.
For large group, we suggest to make groups before the lesson. It makes easy to start your lesson.
Soba noodles are perishables. Please keep your soba cool place and cook within a day. We have ice-pack with \60, and this will keep soba cool at most 4 hours.
Once you taste your Soba at the lesson, your lunch may be too much for you. Be aware.
*All the prices above are included sales taxes.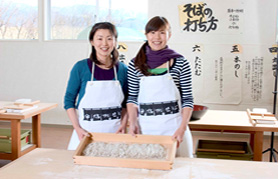 Book Now!
Shinshu Soba Kura Drive Inn
Toll Free Number 0121-41-0895 (Domestic only. Not from cell phone.)
TEL:026-293-5620
FAX:026-293-5621
e-mail w.developer@chikaranomoto.com
7-1 Kinebuchi-Douai, Shinonoi, Nagano, Nagano 388-8019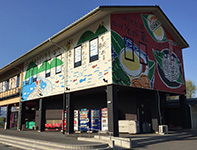 Access
By Bus
From Nagano Station, take No.30 bus at Gate 3.
(*photo of No.30 bus)
No.30 bus's destination is "Matsushiro".
Drop off "Mizusawa Tenkyuji" bus stop it's the 9th stop from the station.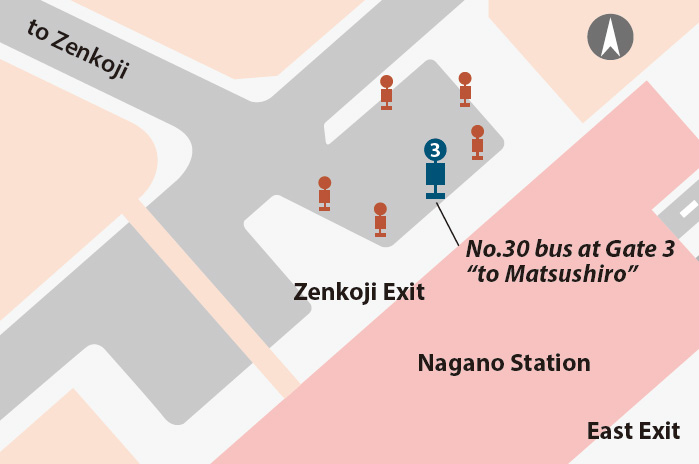 By Car
3 minutes drive from Nagano Inter Change